WOMEN'S PERSONAL GROWTH: ADDRESSING TRAUMA, GRIEF, AND AMBIGUOUS LOSS THROUGH EXPERIENTIAL GROUP THERAPY

Are you finding that trauma, grief and loss are impacting your daily life? Maybe you are feeling stuck, or maybe you are tired of feeling haunted by the past. This is a group for any woman ready to grow, to live your life from a place of feeling whole, and practice being grounded in the present moment.

Trauma, grief, and loss look different in all of our lives. Loss is at the heart of all trauma. Sometimes, we may even be experiencing trauma and grief over what is called an ambiguous loss, or losses which are not characterized by death. This could be a physical or emotional loss of a part of self, loss of a relationship, loss of job, loss of future/time/possibility, etc. These experiences share several core commonalities: disconnection, confusion, pain, and loss of safety. The opposite of loss is connection, which is what this group provides – a safe place for connection, growth, and healing.

Come join Rachel Longer, MSS, LSW, CET I and Leela Ehrhart, MA, CET I for a 12-week group for women who are wishing to grow through trauma, grief, and loss. With a strengths-based focus, we will use experiential techniques and mindfulness meditation to help build connection, safety, grounding in the present, and integration of mind, body, and spirit. Clients in the group are expected to be in individual therapy at the Phoenix Center or elsewhere due to the nature of the group.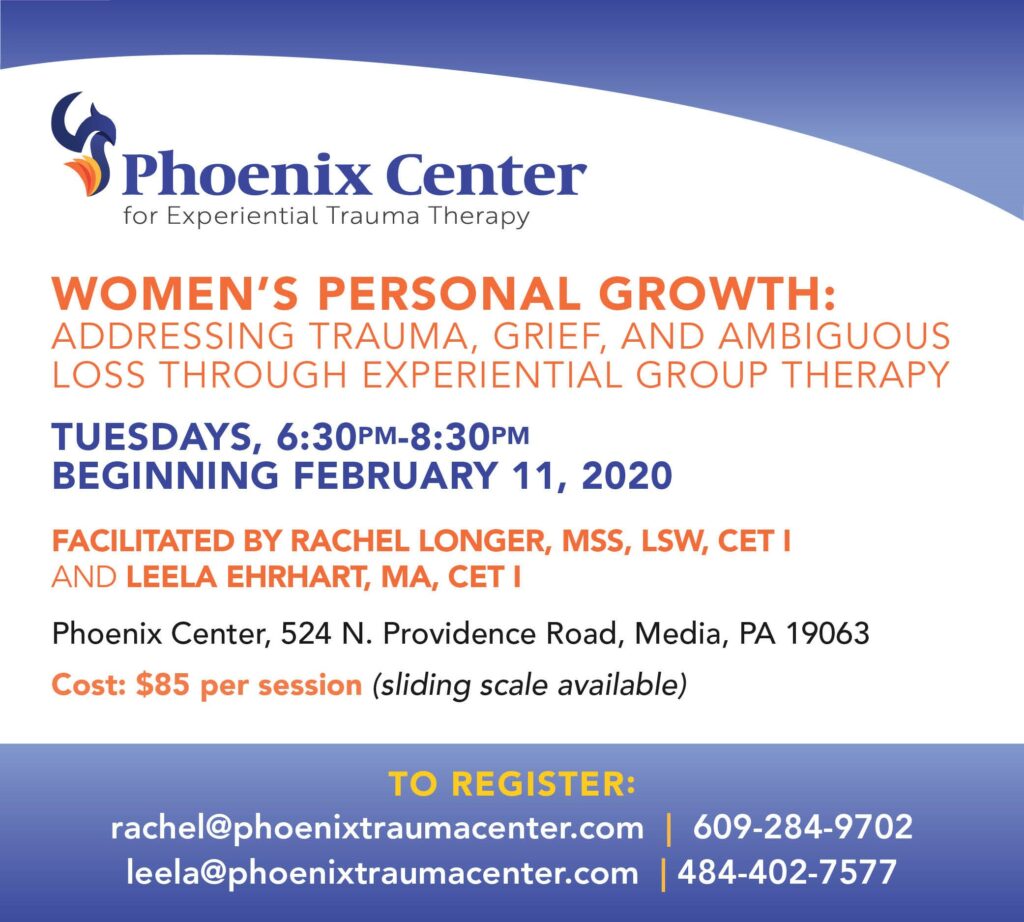 Reach out to us to register:
RACHEL LONGER, MSS, LSW, CET I
rachel@phoenixtraumacenter.com
609-284-9702

LEELA EHRHART, MA, CET I
leela@phoenixtraumacenter.com
484-402-7577